Grant air source heat pumps are part of the specification at each of the properties on an exclusive development in the Norfolk countryside. The site features six barn conversions which combine original characteristics with modern design and at the heart of each home is a renewable central heating system. B Beales Developers explain why sustainable heating was the only solution for these properties.
For over twenty years, B Beales Developers Ltd have been constructing thoughtfully designed homes with an emphasis on detail and craftsmanship. From new builds through to property renovations, they have developed a broad portfolio of homes which are built to a high specification throughout. One of their latest sites, set in the Breckland countryside in Norfolk, is a luxury development of barn conversions where Grant renewable heating systems are being installed. Here, Claire Hendrick from B Beales Developers explains more about the development and the heating systems selected.
Exclusive development
"Steading Mews is an exciting development of six stunning barn conversions," writes Claire. "Each barn will feature its own unique and distinctive character with landscaped gardens and they will be coupled with an incredibly high specification to ensure each property offers a perfect amount of living space and an abundance of natural light. All of the spacious barns are three-bedroom properties, excepting one four bedroom plot, and they are open plan living properties ranging in size from between 2044 square feet – 3250 square feet."
Greener choices
"We have installed air source heat pumps in our properties previously because sustainability is important to us," continues Claire. "As well as installing high levels of insulation throughout our homes, we have been proactive in using alternative heating systems to oil or gas boilers. This is our first development where we have installed Grant Aerona³ air source heat pumps. Their prices were very competitive and the quality of the Aerona³ heat pump is one of the best. Furthermore, our installer – DBR Renewables – is experienced with these units and finds them easy and straightforward to install."
Phase One of the development is complete with an Aerona³ 10kW installed at one of the barns and a larger 13kW heat pump installed at the second barn. The Aerona³ 10kW heat pump is a single fan unit which is also Connect and Notify approved. Meanwhile the Aerona³ 13kW unit has a twin fan which has the Quiet Mark. Part of the award-winning range which won Heat Pump of the Year (National ACR & Heat Pump Awards 2022), all of the Aerona³ models are supplied as standard with a factory-fitted HE pump, flexi hoses, isolation valves, condensate drain elbow, remote controller and 8m cable, interface relay box and flow setter.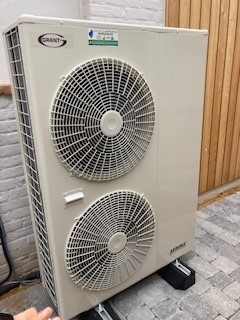 Manufacturer support
"Manufacturer support from Grant UK has been great throughout the design and installation stages," concludes Claire. "Alongside the heat pumps, we are also installing a QR hot water cylinder and Grant's combined volumiser / low-loss header in each of the barns and the Grant team have been on the end of the phone, providing technical support and advice whenever we have needed it. The first two properties are completing in Summer 2022 and we are looking forward to working with Grant as we finish the second phase of this development."
Please click here for further information about Grant air source heat pumps.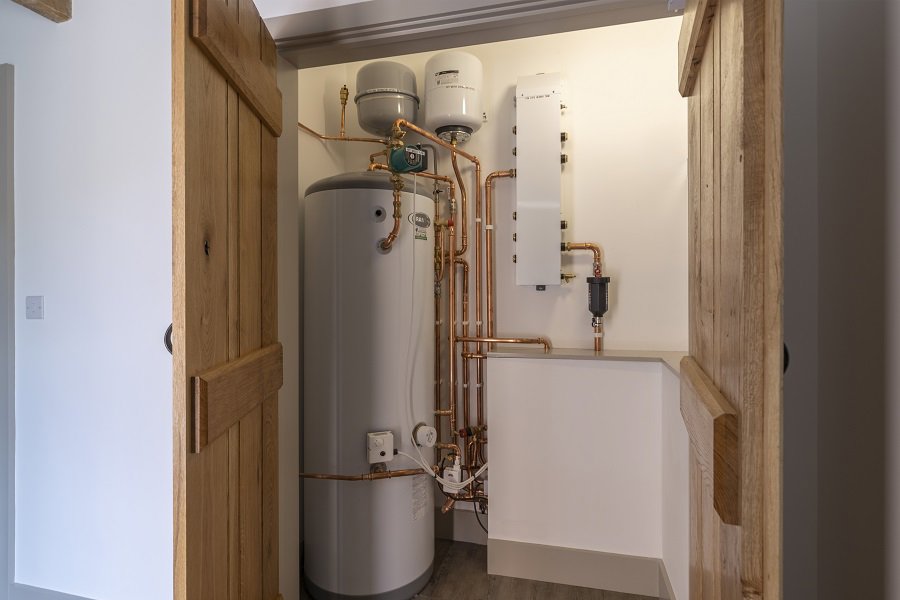 Credit: B Beales Developers