Grant products have been designed and built to last for years and, to reflect the confidence of their quality, standard and extended guarantees are available on appliances throughout the ranges.
Standard guarantees
Grant UK guarantees the manufacture of their products for a period of twelve months from the date of installation as standard, provided that the product has been installed in full accordance with the installation and servicing manual supplied. This guarantee will be extended to a total period of two years if the product is registered with Grant UK within thirty days of installation and serviced at twelve monthly intervals. In cases when the installation is completed more than six months from the date of purchase, the guarantee period will commence six months from the date of purchase.
Each Grant product is supplied with a copy of the standard guarantee Terms and Conditions within the supporting Installation and User Instruction documents. Grant UK strongly recommends that customers thoroughly read these Terms and Conditions to ensure that they comply and adhere to them in order to maintain their product's standard guarantee.
G1 extended guarantees
The standard two year guarantee on Grant's renewable products and oil boiler ranges can be increased if the unit is installed by one of Grant UK's G1 Installers. G1 Installers can offer extended guarantees on the Grant products that they are accredited to install and register – please see the table below for a summary of the guarantees available.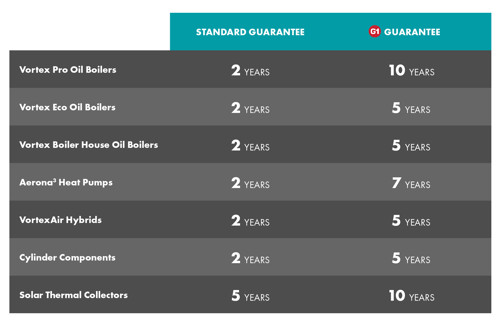 The G1 extended product guarantees are subject to the product being installed in full accordance with both the installation and servicing instructions as well as the G1 Scheme Terms and Conditions. Please note, G1 extended guarantees are only activated when the G1 Installer registers the appliance via their G1 Portal or Click App. Homeowners looking to find a G1 Installer in their local area can use the Find an Installer online search.
Extended warranties
When a Grant product is not installed by a G1 Installer, homeowners can still increase the warranty on their appliance. Grant UK offer a range of three year extended warranty options which are exclusively available for products registered within thirty days of installation. You can read more about Grant's extended product warranties here.