When one of the properties managed by Buccleuch in the Scottish Borders needed refurbishing, a low carbon heating system was required to fulfil the property's requirements while also adhering to the sustainable ethos of Buccleuch. The solution, including an air source heat pump, integrated hot water cylinder and aluminium radiators, was supplied by Grant UK who delivered a complete package of products and support to Buccleuch.
Buccleuch manages a large portfolio of properties including Old Kirkhope in the Scottish Borders. As a business, protecting the local environment for each of their properties has always been a core priority for Buccleuch but with new legislation on the horizon, they are more aware than ever of the need to reduce the carbon footprint of the properties they look after. Here, Callum Ramsay, Head of Architecture at Buccleuch, and Joanna Laidlaw, Architectural Technologist at Buccleuch, share more about why they are placing such emphasis on sustainability with a focus on their recent refurbishment of Old Kirkhope, explaining how Grant UK helped them specify a suitable renewable heating system for this nineteenth century property.
An introduction to Buccleuch and what they do
"Buccleuch has a remarkable past and an exciting future," writes Callum. "As a modern, diverse business, our focus is to maintain and enhance the environment of the properties and estates that we manage, preserving them for generations to come. We operate across a range of enterprises including forestry, estate management, visitor services, renewable energy and commercial property. At the centre of our decision making are four guiding priorities – environment, communities, customers and colleagues. Today, we currently have 244 private rental properties which are on or near rural estates and many of these properties are around 100 years old."
What experience with renewable heating systems does Buccleuch have and why are you now specifying renewable heating for your properties?
"We have a longstanding commitment to the environment so here at Buccleuch, we are continually assessing our operations and ensuring they have a positive environmental impact," continues Callum. "Two of the mansion houses are already using renewable energy in the form of a ground source heat pump and biomass boiler and our estate offices at Bowhill and Langholm are also heated using biomass.
"We are also acutely aware that from 2025, there will be a requirement for our rental properties to achieve a minimum EPC rating of C at change of tenancy and for all remaining rental properties to achieve an EPC rating of C by 2028. The Scottish Government has also proposed that no new oil boilers should be installed in any new build properties from 2025, and no new gas boilers from 2030. Due to their rural location and age, the majority of Buccleuch's Scottish residential properties are not on the gas grid and are currently heated using oil boilers.
"Going forward, where a Buccleuch residential property requires a full refurbishment, only low carbon heating systems, such as a heat pump, will be specified. At the same time, where appropriate, solar panels will also be installed to allow the tenant to benefit from renewable energy. This programme of work has begun, with solar PV and an air source heat pump being installed at Old Kirkhope and at other ongoing projects across our estates."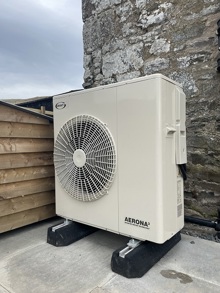 Please can you share further information about the project at Old Kirkhope?
"Old Kirkhope is fairly typical of Buccleuch's rental properties," explains Joanna. "It is a two-storey dwelling built approximately in the early 1800s, with a total floor area of 130 sqm. The property is of traditional construction with stone walls and a slate roof. The decision was made, when the property became vacant, that Old Kirkhope would benefit from a full refurbishment, to improve the layout for modern living and ensure EPC compliance for the future.
"The property was stripped to the bare walls to enable full insulation of the walls, floor and roof to meet current U-Value standards. With the full insulation complete, meeting current standards and reducing heat loss, Old Kirkhope was then deemed suitable for the installation and effective operation of an air source heat pump."
Why did you choose an air source heat pump for the property?
"We are not only aware of the upcoming EPC requirements but transitioning to low carbon heating solutions for our properties is now a driving force for us," comments Callum. "Buccleuch wanted to ensure that any works carried out as part of the refurbishment of Old Kirkhope (and our other residential properties in the future) were of a standard to meet the future requirements needed to install a renewable heating source, such as heat pump. With the refurbishment at Old Kirkhope, the installation of an air source heat pump was the most suitable solution."
Did you know of Grant products before this project?
"For some time, Buccleuch have worked with Grant products, initially in the installation of oil boilers," writes Joanna.
Why did you select the Aerona³ air source heat pump for Old Kirkhope?
"Following our relationship with Grant UK for oil boiler supply, Buccleuch's architecture team reached out to Grant UK to request a CPD session on air source heat pumps, to inform future designs and refurbishment decisions," Joanna explains. "For Old Kirkhope, Grant UK carried out a heat loss calculation for the property and then specified the Aerona³ 10kW heat pump model.
"The heat pump is located on the south west elevation of the property, taking up minimal external space. This is adjacent to the utility room so that any noise from the heat pump is not heard within occupied rooms within the dwelling. When the heat pump is operating, however, the noise from the heat pump is minimal."
Alongside the Aerona³ heat pump, a Quick Recovery Integrated Cylinder has also been installed. Why did you install this type of cylinder model?
"There was limited cupboard space available to locate the standard heat pump cylinder and plant, so it was decided that the QR Integrated cylinder would be the best solution," writes Joanna. "This is located within the utility room without taking up too much space and it looks incredibly neat."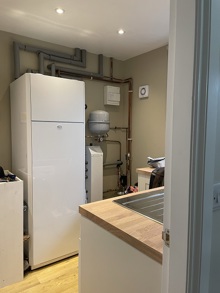 How many Grant Afinia radiators have been installed at the property and why were these aluminium radiators specified for this installation?
"Throughout the property, 12 Afinia radiators of various sizes were installed," Joanna confirms. "Afinia radiators were chosen for the Old Kirkhope project as, in this instance, underfloor heating was not a cost-effective solution. There was, however, a requirement for a heat emitter that would work as efficiently with the heat pump as possible.
"Aluminium is an incredibly effective conductor and aluminium radiators heat up very quickly, transmitting their heat into the room more rapidly than steel radiators. With minimal cost differential between traditional steel and the Grant Afinia radiators but knowing the increased efficiency of the Afinias with an air source heat pump, they were chosen for this project. For future projects, where underfloor heating is not a viable option, the decision has been taken to install Afinia radiators if a new heat pump system is being installed."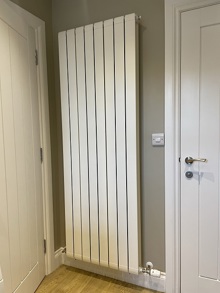 Finally, can you explain how the Team at Grant UK have supported Buccleuch during this project?
"When we initially approached Grant UK about air source heat pump systems, Mike Pryde, Grant UK's Regional Sales Manager for our area, arranged a CPD for various Buccleuch colleagues, outlining the Grant products available and how they work," Joanna explains. "Buccleuch and Grant remained engaged after the CPD, with Grant UK responding to our follow up queries.
"For Old Kirkhope, Buccleuch sent the Grant UK Design technical team a copy of the project drawings, from which they provided a full heat loss calculation for the property, including the size of heat pump and Afinia radiators required. Then, once the system had been installed, a Grant engineer visited the property to carry out an assisted set up of the system, with the heating engineer and electrician, and a system demonstration with Buccleuch's tenant (the end user). The engineer was also on hand to answer any questions from the tenant and Buccleuch's lettings team.
"Following the success at Old Kirkhope, Buccleuch now have various ongoing projects where Grant UK have provided technical support, including heat pump and radiator specification. Throughout this project and our other current projects, the level of customer service and technical support Buccleuch have received from Grant has been excellent," concludes Joanna.
Please click here for further information about the range of renewable heating systems and package solutions from Grant UK.