Underfloor heating systems can either be electric or wet systems, both of which heat up the floor area and emit warmth into a room. Electric systems typically use cables laid throughout the floor which are connected to the mains electricity whereas a wet underfloor heating system comprises of pipework through which warm water flows which the heat source (such as a boiler or heat pump) has heated up to temperature. The Grant Uflex and Uflex MINI systems are wet underfloor heating systems which can either be installed with screed or as dry, non-screeded systems.
Underfloor heating systems have been a familiar feature in homes for many years but, in recent years, their popularity has significantly grown. Not only is a wet underfloor heating system an ideal partner to a low temperature air source heat pump, underfloor heating delivers a multitude of benefits from even heat distribution, space saving and energy-efficiency through comfort, control and versatility.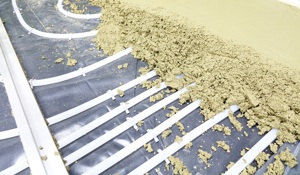 Wet underfloor heating systems have excellent heat distribution
An underfloor heating system will evenly distribute heat into a space or room. This is because with a wet underfloor heating system, such as the Uflex or Uflex MINI, the entire floor becomes a surface area through which heat can be emitted into a room, radiating evenly upwards throughout the space. Compare this to a radiator, whereby heat is emitted into a room by convection currents, there will often be cold spots or draughts. An underfloor heating system will therefore provide consistent warmth in all corners of a room, effectively keeping a room's temperature at the desired level. Visit our Knowledge Hub to learn more about the differences between underfloor heating and radiators.
Wet underfloor heating systems save space
A wet underfloor heating installation will save space. Unlike radiators which take up wall space, an underfloor heating system is fitted as part of the floor construction and does not use up any space within a room. Out of sight, an underfloor heating system can allow homeowners to maximise the use of their living areas without having to worry about arranging furniture in a way to avoid covering radiators or wall mounted electric heaters.
Be more energy-efficient with wet underfloor heating
When correctly designed and installed, underfloor heating is a very efficient choice of heat emitter. Due to the large surface area available, a wet underfloor heating system will have lower water temperatures flowing through compared to a traditional radiator which are hot to the touch. The lower flow temperatures combined with the large surface area will ensure that the desired room temperature is achieved while also supporting the efficient operation of the heat source. If installed with a heat pump, such as the Aerona³ air source heat pump, a Uflex underfloor heating system can help the heat pump to operate at its optimum efficiencies.
Underfloor heating can improve home comfort
An underfloor heating system can deliver complete comfort, gently and consistently emitting warmth into a space with no cold spots. A warm floor is also a pleasant feature in an occupied living area. To learn more about the comfort that a wet underfloor heating system can achieve, follow the link to our Knowledge Hub.
Have complete control of your home's temperature
As with any heating system, setting up the controls correctly is imperative. Grant's Uflex range includes wired and wireless programmable room thermostats which allow homeowners to control their Grant underfloor heating system with ease and at the touch of a button. These controls not only allow households to set the temperature that they want the rooms in their house to be, but they can also provide clear visual displays to show key information about their system. Please click here to learn more about Grant's range of underfloor heating system controls.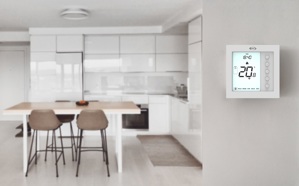 Wet underfloor heating systems are versatile
It is a misconception that a wet underfloor heating system can only be installed in new builds. While new builds and extensions lend themselves very well to underfloor heating installations, because the system can be laid during the floor construction phase, underfloor heating can also be fitted in retrofit projects. Low profile systems such as the Uflex MINI or Grant's overlay board underfloor heating systems can be fitted on top of existing floors, provided they are level and sound. Solutions such as these therefore mean that underfloor heating is incredibly versatile with a system suitable for almost any scenario. Follow the links below to read a couple of underfloor heating case studies:
- Uflex underfloor heating system installed in a barn conversion
- Uflex underfloor heating system installed in a new build
Grant supply wet underfloor heating systems
Grant UK supply a number of wet underfloor heating systems including the Uflex UFH system, the Uflex MINI UFH system and Uflex and Uflex MINI Overlay Board UFH system. The system pipework comes with a 25 year guarantee (T&Cs apply) and each system is available with the support and expertise of Grant UK's in-house Design and Specification Team. Discover the complete underfloor heating range from Grant UK here or contact a member of the team.