Tom Smith Plumbing and Heating Services, G1 Installers who specialise in renewable, eco-friendly technologies, completed the installation of a hattrick of Grant products in a new build property in Perranporth, Cornwall. An Aerona³ heat pump, Wave cylinder and Uflex underfloor heating system are working together to fulfil the heating requirements of this new family home.
Earlier this year, the build of a new detached home located in the heart of Perranporth in Cornwall was completed. The property, which has four bedrooms, a master bathroom, ensuite and a ground floor shower room, was designed to deliver comfort for its owners which also included the installation of a renewable heating system. An air source heat pump was selected as the heat source alongside a new hot water cylinder and an underfloor heating system which have been installed to meet the space heating and hot water demand of this sustainably built home.
"The clients gave us a design brief and we came up with a system to suit the needs of their property," writes Tom Smith, the installing engineer. "Being an eco-friendly build, this property needed a sustainable heating system that would help the client achieve a low carbon footprint. The Monowave cylinder and 10kW Aerona³ heat pump were a perfect match and couple that with the Uflex underfloor heating meant it was an all-star Grant team of technologies we put forward and then installed into the property."
The 10kW heat pump is one of four models within the Grant Aerona³ R32 air source heat pump range. Monobloc in design, the Aerona³ heat pumps are inverter driven units and are highly efficient, achieving an ErP rating of A+++. The 10kW model's excellent performance is marked by its high SCOP value of 5.22, demonstrating its efficient operation even when external temperatures are low.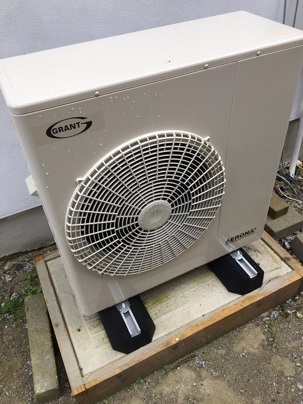 Developers and self-builders are increasingly turning to Grant air source heat pumps when choosing a suitable heating system which is not reliant on fossil fuels. New properties are built with excellent levels of insulation and installing heat emitters with large surface areas is easy to scope into the early phases of a build, two factors which contribute to the efficient and smooth running of a low temperature system, such as an air source heat pump. This property in Perranporth exemplifies this and shows why heat pumps and underfloor heating are an ideal match for new builds.
"Grant Uflex underfloor heating has been installed throughout the ground floor and first floor of this property," continues Tom. "By installing this underfloor heating system, both floors become the surface area through which heat can be evenly distributed into the living spaces of the home. This large surface area enables the client's desired room temperatures to be met by the heat pump system while also helping the heat pump itself to work in its most efficient operation."
Tom Smith Plumbing and Heating Services, G1 Installers based in Redruth, regularly install Grant's renewable technologies. "As a business, we are striving to deliver heating systems which are sustainable and in line with the eco-friendly ethos that many of our clients hold," comments Tom. "I enjoy working with Grant's products because they are trusted appliances, installer-friendly, and the technical back-up and after-sales support is great. This installation was one of three eco-houses we have completed in Perranporth in the past six months and a mixture of Grant renewable heating systems have been fitted in all the properties, proving how greener, more sustainable heating solutions have helped our clients realise their goals of an environmentally friendly home."
Please click here for more details about Grant renewable heating systems.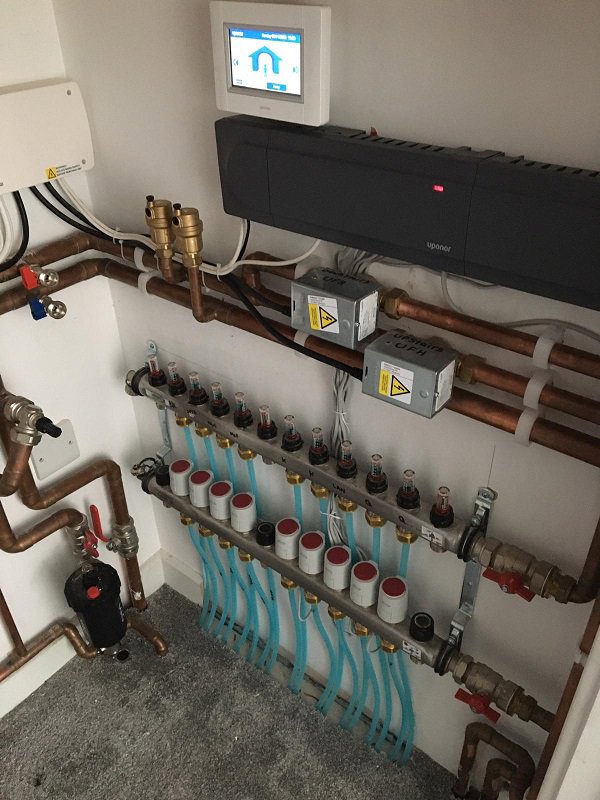 Credit: Tom Smith Plumbing & Heating Services