A Uflex underfloor heating system consisting of fifteen zones has been installed as part of a barn conversion project in Thirsk, North Yorkshire. Here, we talk to Oliver Carter Plumbing and Heating, the G1 installer who completed the installation, to discover how they found working with the new Uflex underfloor heating range from Grant.
Earlier this summer, the project of converting a barn into a three-bedroom home got underway on a farm located in the surrounds of Thirsk in North Yorkshire. The property is 200 square metres in size and incorporates a large kitchen and office space alongside the other living areas, bedrooms and bathrooms. The heat source is a gas boiler and Grant's Uflex wet underfloor heating system was chosen as the most appropriate choice of heat emitter to effectively distribute heat evenly throughout the property.
Ideally suited for these types of projects, the Uflex underfloor heating system is embedded within the floor construction. Utilising a unique self-adhesive edging strip and floor membrane, the 16mm Uflex pipe is positioned and clipped into place before a flow screed is laid and left to dry for up to thirty days. Not only are all of the pipework, manifolds and components supplied by Grant UK but their Design and Specification Team are also on hand to assist with the product specification and full system design, something that Oliver Carter found of use with this installation.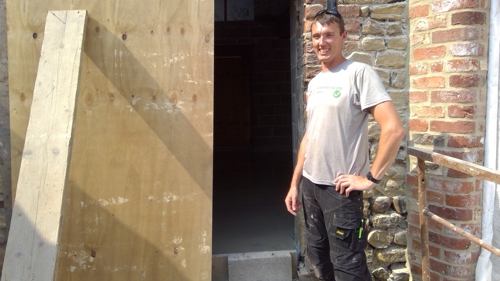 We spoke to Oliver to get his feedback on this new product and to see how he felt his first Uflex installation went.
Q. Why did your customer choose underfloor heating for their home?
Oliver. Underfloor heating offers lots of benefits to the homeowner. It is a much more comfortable form of heating, especially under foot, and it allows you to use all the floor space in the room as a means of emitting heat so no cold spots, unlike wall-mounted radiators. Underfloor heating works efficiently at lower temperatures as well so heating costs can also be reduced which is another benefit for the end-user.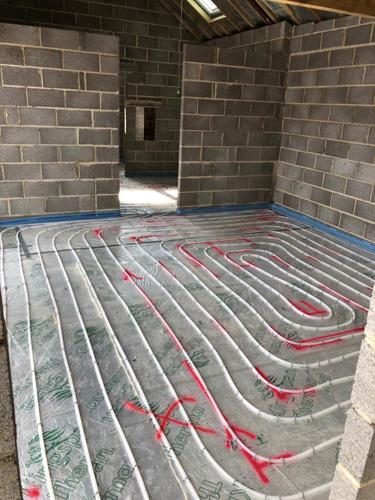 Q. How did you find working with the Uflex UFH system?
Oliver. This was my first time installing Grant's Uflex underfloor system and it was good to work with. The layout of the property, with its U shape, made the job slightly more difficult for the pipe runs and positioning of the manifolds, but the hard work was worth it.
       The manifolds look high quality and well made, and I am very familiar with the Wilo pumps fitted with them too. Even though the Uflex pipe is plastic, it is easy to work with and does not spring back. The pipe is easy to bend, very flexible and when fitted, looks very smart.
       In particular, I like the large rolls that the pipe is available in upon supply. Having 640 meters on one reel helps you significantly reduce wastage. In addition, the pipe decoilers are worth their weight in gold and we used two of these for this installation.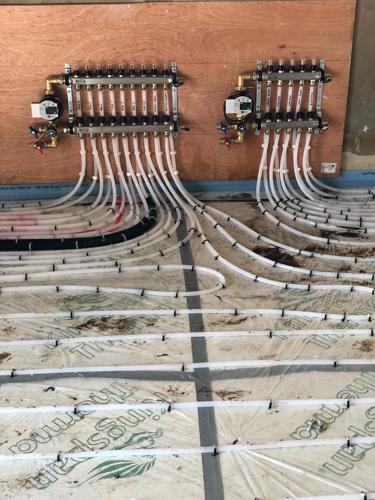 Q. How did you find the level of service and support from Grant UK?
Oliver. The Design and Specification Team assisted with the planning, system specification and pricing. Everyone at Grant UK has been great to deal with and helpful, but Grant always are to be fair! Lee Schofield, my local Area Sales Manager, visited the site when we were laying the screed so it was good to have him on hand for my first Uflex install. I don't think Lee could believe the size of this job which was quite sizeable for my first Grant underfloor install!
Q. Following this first install, will you be installing Grant underfloor heating again?
Oliver. Yes. We already have another couple of underfloor jobs in the next few months which will be simpler and smaller in size and for both, we will be using the Grant Uflex system.
For more details about Grant's Uflex underfloor heating system, please click here