If you are thinking about upgrading your heating system, you will probably be researching the various options of heat emitters available. There is plenty of choice out there so let us help you weigh up the differences between an underfloor heating system and radiators.
Radiators have been a common feature of most homes for decades, whether they be older properties or new builds. However, as more and more homes transition to low temperature heating systems, such as air source heat pumps, the popularity of underfloor heating systems has significantly increased and in recent years, homeowners are opting for this invisible type of heat emitter for their homes instead.
Underfloor heating provides complete comfort, emitting warmth into the room from the floor upwards so it is unsurprising that so many homeowners have chosen to install this type of heat emitter. However, radiators have many benefits as well and sometimes they are a more practical heat emitter for certain types of properties and projects. Let us take a closer look at the benefits of underfloor heating and radiators to help you make an informed choice with your heating system.
Underfloor Heating Vs Radiators – which is better?
The answer to this question will depend on the specific requirements of your property and its space heating demand. Whichever type of heating system you install – a renewable system or a traditional boiler – it is important that your heat emitters are correctly sized otherwise your heating system will be unable to achieve your desired design temperatures.
When the heat loss calculation is carried out on your property (which should be completed during the specification and quotation stage), your installer will be able to work out how much surface area is needed to emit the heat from the system into your rooms. For low temperature heating systems, a larger surface area will be required and this is why underfloor heating is a popular choice to partner with heat pumps because it offers the entire floor area as a heat emitter. If the option to lay an underfloor heating system is not feasible or if you would prefer to upgrade and replace your existing radiators, then aluminum radiators are another great solution because they are very effective heat emitters as well.
What is underfloor heating?
An wet underfloor heating system comprises of a series of flexible pipes which are laid within the floor. Hot water flows through these pipes and the heat is transferred upwards, radiating warmth evenly into a room. How an underfloor heating system works is relatively straightforward but there are different types of systems available from those embedded within the floor, those fitted on top of an existing floor, screeded systems and dry systems.
The headline benefit of underfloor heating is that it provides a large surface area through which heat can be distributed into a space. As explained in a couple of our previous blogs, underfloor heating systems are unobtrusive in design, can be installed with multiple types of heat sources, there is a system to suit any home whether they be retrofit underfloor heating installations or new builds an extensions, they are straightforward to install and an underfloor heating system can improve the overall efficiency of the heating system.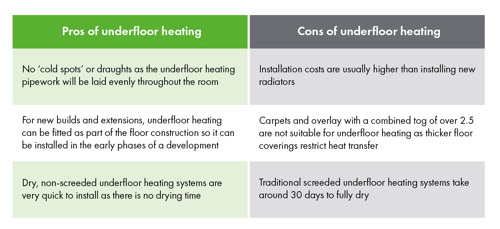 Read more about suitable floor coverings for underfloor heating here.
What is a radiator?
Radiators heat up a room using air circulation and thermal currents, with hot air being moved from the radiator to the ceiling where it cools and then falls to create an air cycle. Radiators are available in different types of material from steel radiators and cast iron ones through to aluminium radiators and each of these metals performs differently. Aluminium is an incredibly effective thermal conductor and models such as the Afinia radiators are more efficient than traditional steel or cast iron radiators.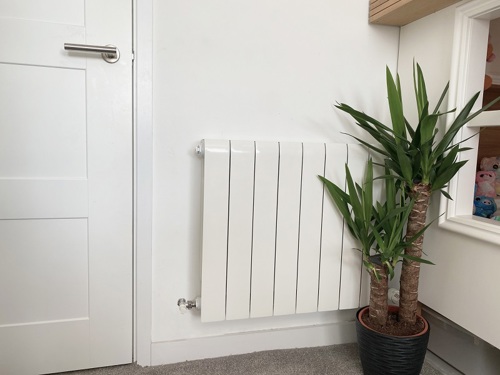 Aluminium radiators
Aluminium radiators are a great addition to any home. They heat up and cool down very quickly so they are responsive when changes are made to the temperature demand. They also have low energy consumption which can help lower energy bills and they are incredibly straightforward to install being suitable for a single engineer to fit which can reduce installation costs. The design of radiators has also been modernised in recent years so new radiator options are often sleek and stylish to suit a room's décor.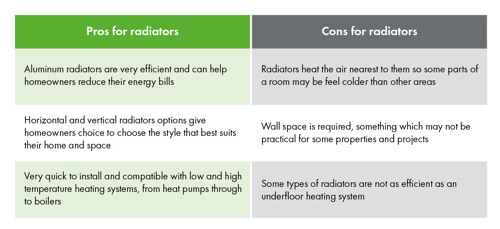 To learn more about how underfloor heating works differently to radiators, please click here.
Underfloor Heating or Radiators – how do they compare?
These two types of heat emitters offer different benefits which means they each lend themselves to a variety of installation scenarios. New builds and extensions often opt for underfloor heating especially if the heat source being installed is a heat pump whereas an older property looking to upgrade their existing radiators, may opt for newer, more efficient radiators to be installed in the same spaces as the previous radiators. And in plenty of scenarios, both are installed with underfloor heating downstairs and radiators fitted upstairs.
Installation
A wet underfloor heating system installation involves preparing the floor, positioning the pipe, connecting the pipe to the manifold and controls, filling the system with water and pressure testing, laying the screed (if applicable) and waiting for this to dry. For the installation, full line drawings which clearly show the pipework arrangement are imperative as is a thorough system design because it is important that the underfloor heating pipe is laid evenly throughout the floor. Grant UK's in-house Design Team can help with this phase. With underfloor heating, it is also important that door and skirting board arrangements are factored in – a low profile underfloor heating system (such as the Uflex MINI system) will only raise the finished floor height marginally but a traditional screeded underfloor heating system may increase the floor height significantly which could mean doors need adjustments.
Radiator installations are quicker than laying an underfloor heating system but the system design is just as important. The right size of radiator must be fitted to suit the space in which it is heating and it is also important to factor in the aesthetics of the room and wall space available. For example, a vertical radiator may be more suitable when wall space is limited or furniture needs to be avoided. Also, it is recommended that radiators are not covered so talk to your installer and discuss where your new radiators will be installed – you would not want to place a large sofa directly in front of a radiator as it will hamper its ability to heat the room.
Running Costs & Efficiency
As mentioned earlier, both underfloor heating systems and aluminium radiators are incredibly efficient and effective heat emitters so each system can, if installed and operated correctly, help reduce your energy running costs. Data suggests that underfloor heating can be 25% cheaper to run than traditional radiators when used in conjunction with a condensing boiler and up to 40% cheaper to run when used with a heat pump (EuRay 2005.)
But, as with everything, these types of savings will only be made if the system has been designed, set up and operated correctly. Underfloor heating systems operate at their best efficiencies when they are not constantly turned off and on so ensuring your controls are correctly set up is key. Other design factors will also impact the efficient operation of underfloor heating or radiators such as suitable home insulation to mimimise heat loss through the walls and windows. It is also worth noting that the overall efficiency of your heating system and emitters will be influenced by the heat source itself – an older boiler model for example will be less efficient than a new boiler so to benefit from all the efficiency features of new heat emitters, you need the heat source itself to be efficient as well.
Maintenance
Both underfloor heating systems and aluminium radiators are relatively low maintenance but when your heating engineer services your heat pump or boiler, there are some steps they can check to ensure your heat emitters are working well.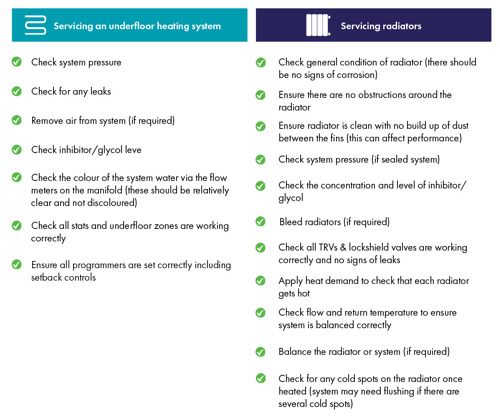 Can I have both?
Yes. Often both are installed as part of one system with underfloor heating fitted on the ground floor and radiators installed upstairs. To see an example of an installation where Uflex underfloor heating was installed alongside Afinia radiators at a family home in Wiltshire, read at our case study here.
Some types of underfloor heating systems can be installed upstairs. Overlay Boards, heat emission plates as well as the Uflex MINI system are all suitable for upper floor installations so you can opt to have underfloor heating installed throughout your home.
Which heating emitter should I choose?
The answer to this question sits with you, your home and your installer. Depending on your heating demand, your heat source and your own preferences, either underfloor heating or aluminium radiators or a mixture of both could fulfil all your requirements for a warm, cosy home.
Discover the Uflex Underfloor Heating Range
Discover the Afinia Aluminium Radiator Range
Find a local Installer