Underfloor heating systems utilise the entire floor area within a room as a heat emitter, delivering ultimate comfort effectively and efficiently.
Underfloor heating is another member of the heat emitter family. However, instead of being positioned on a wall, like a radiator, an underfloor heating system is located within the floor allowing the entire floor to become a large surface area for emitting heat into the occupied living space of a room.
Underfloor heating can effectively deliver ultimate comfort which is one of the reasons why its popularity is soaring. For example, Grant UK has seen great results from retrofit underfloor heating systems as well as underfloor heating installed in new build properties.
Understanding underfloor heating systems
Underfloor heating systems can be electric or wet – Grant's Uflex and Uflex MINI systems are both wet underfloor heating systems. With wet underfloor heating systems, a series of flexible pipes are laid within the floor through which the hot water flows, transferring heat upwards and radiating heat evenly into the room. The effectiveness of the heat transfer is dependent on a suitable flooring material being fitted, such as tiles or stones, which permit excellent transfer and can be heated up to 29ºC.
There are different types of wet underfloor heating systems, but each system consists of the basic elements including floor insulation, a membrane base, the pipework and manifolds, and a layer of suitable screed.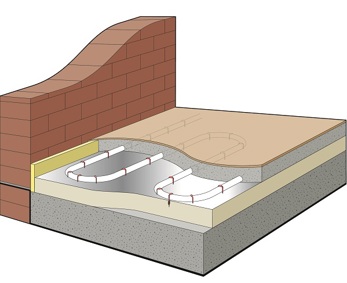 Grant's Uflex system is a traditional underfloor heating arrangement with the pipework embedded within the floor construction, clipped into place and covered with a flow screed 75mm in thickness.
The Uflex MINI system is a low profile underfloor heating system which differs to the Uflex arrangement in that instead of staples holding the pipework in place, the flexible pipes are clipped into castellations within large, self-adhesive panels and a self-levelling screed is poured over the top which is between 15mm – 20mm in depth, making for a quicker installation and faster drying period.
Underfloor heating design
An integral part of any underfloor heating system installation is the design phase. It is important that the layout of the room, the location of the manifolds and the configuration of the pipework is thoroughly planned right at the beginning to ensure that the system laid is effective. 
To help with specifying and designing underfloor heating systems, Grant UK's in-house Design Team are on hand to help customers from discussing the different types of underfloor heating systems available through to in-depth specification plans and system designs. If you have a project you want to discuss with our Team, please contact our Design Department.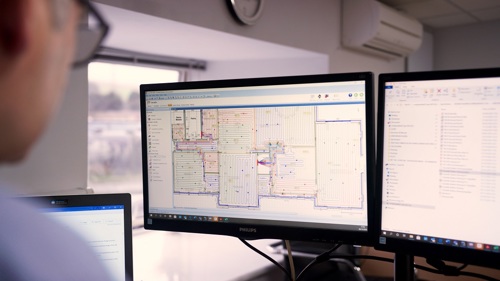 How is underfloor heating installed?
Installing an underfloor heating system involves the installer preparing the floor and ensuring suitable floor membrane and insulation is fitted, before laying the pipework system (either directly or using panels or overlay boards, depending on the system being installed) and then pouring a screed (if required). Once the screed has dried (this varies according to the type of UFH system being installed and the amount of screed used), the finished floor covering can then be fitted on top. 
The video below shows the steps involved installing the Grant Uflex underfloor heating system. Please visit our YouTube Channel to watch other step by step videos of the Grant Uflex MINI and Overlay Board underfloor heating systems being installed.
Please click here to read more about Grant's Underfloor Heating ranges. If you are interested in reading more about the different features and benefits of heat emitters, such as comparing underfloor heating to radiators, please head to the Tips and Advice zone within our Knowledge Hub.