You can install a Grant WinterSol. The purpose of the Grant WinterSol kit is to provide you, the homeowner, with a fully heated cylinder of hot water during times when there may not be sufficient solar gain to satisfy the hot water demand. By fitting the Grant WinterSol Kit, you can operate a simple summer/winter switch – during periods of low solar gain, you can position this to 'winter' which will allow the air source heat pump or boiler to heat the full contents of the cylinder. When solar gain is restored, the switch can be set back to 'summer' mode for maximum efficiency. This kit does not directly prevent solar thermal or heat pump systems from operating as it is only energised during your normal programmed hot water period.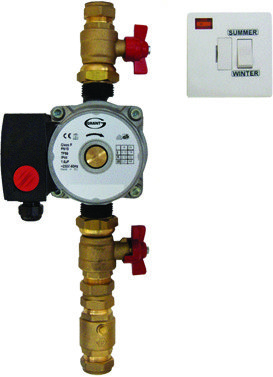 Credit: The WinterSOL kit supplied by Grant UK
Was this article useful?
0 out of 0 found this helpful
Have more questions? Submit a request
Are you a professional? View our Professional Support Centre