Underfloor heating systems provide homeowners with an efficient heat emitter solution which can partner with both renewable and traditional central heating systems while also delivering lots of benefits from comfort through to unobtrusive design. This article provides an overview of UFH to help homeowners understand how they can incorporate this versatile heat emitter into their homes.
Wet underfloor heating systems utilise the entire floor area of a room to evenly distribute heat into the occupied space. With different types of UFH systems available, this type of heat emitter can be installed into almost any home from new builds and extensions as well as retrofits installation. A correctly designed underfloor heating system is a great alternative for homeowners looking for a different solution to traditional radiators so in this guide, we will explore what wet underfloor heating is, how it works, its benefits and how to get it installed in your home.
What is a wet underfloor heating system?
In brief, an underfloor heating system consists of loops of flexible pipework which are embedded within the floor structure – depending on the type of system, a screed can be poured on top of the pipework before the floor covering is laid or with a dry, non-screeded system, such as overlay boards or heat emission plates, overlay boards are fitted directly onto an existing sound and level floor, or with heat emission plates being fitted between the joists of suspended wooden floors. With wet UFH systems, hot water flows through these pipes and the heat is then transferred upwards, warming the surface area of the floor and in turn heating the room to the desired temperature. The nature of its design means that an underfloor heating system will evenly provide heat throughout all the living space within a room, with no cold spots, delivering complete comfort for homeowners from the floor upwards.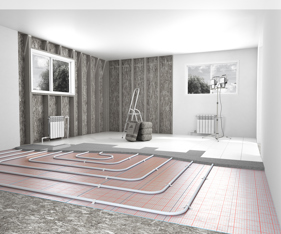 How does underfloor heating work?
An underfloor heating system will be connected to the main heat source which can either be a traditional boiler, such as gas or oil, or a renewable technology such as an air source heat pump. Hot water will flow away from the heat source and into the network of flexible pipes which are laid within the UFH system located beneath the chosen floor covering. As the hot water passes through these pipes, its heat will be transferred upwards through the floor and into the room, warming the entire space. To learn more about how underfloor heating works, please visit our Education Area.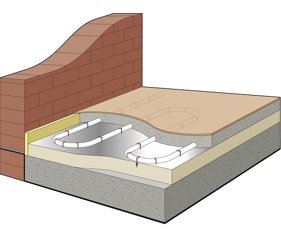 Where are wet underfloor heating typically installed?
As mentioned earlier, there are many types of UFH systems which are suited to different installation scenarios. Underfloor heating can be installed in lots of types of rooms or spaces, from residential homes through to commercial offices, and in kitchens, living rooms, bedrooms, bathrooms, conservatories and more. For new builds and extensions, systems such as the Uflex underfloor heating system are ideally suited because they can be fitted during the construction phase of the floor. Meanwhile, for retrofit installations, low profile underfloor heating systems are well suited because they do not significantly increase the height of the floor – the Uflex MINI system is one such low profile UFH solution. For first floor installations, overlay boards can be fitted and with suspended floors, heat emission plates make UFH a viable solution for these scenarios as well.
What are the benefits of wet underfloor heating?
Choosing underfloor heating for your home will bring many benefits. With its large surface area, underfloor heating is the ideal partner for low temperature heating systems such as air source heat pumps, supporting the heat pump's efficient and optimum performance. An underfloor heating system will not only keep the floor (and your feet) warm but it will also ensure that a consistent temperature is achieved evenly within a room delivering complete comfort. Installed within the floor, an UFH system does not use up any wall space and its space saving design means that it has minimal impact on a home's interior. Low profile underfloor heating systems, in particular, give homeowners freedom to install UFH without making significant changes to their home's existing floor or door arrangement.
There are many more advantages of installing an underfloor heating system but another important benefit to highlight is that they are low maintenance. An UFH system should be checked during the annual service of the heat source but aside from this, they require minimal care or input from the householder. Furthermore, with 25 year guarantees available on Grant's underfloor heating systems (subject to T&Cs), an underfloor heating system should provide years of comfort and peace of mind.
What is the underfloor heating installation process?
The installation process for an UFH system will differ depending on the type of system that is being installed. However, whether a traditional screeded system is being laid or a dry, non-screeded UFH system, every underfloor heating system installation should start with thorough planning and design. If you are thinking about installing underfloor heating in your home, here are some of the key steps to follow:
Find a local underfloor heating installer (or more than one if you want to receive several quotations)
Complete a thorough assessment of your property – the installer will then visit your property to discuss your requirements, carry out a thorough heat loss of your home and suggest the different types of UFH solutions available
Design the UFH system – after calculating the heat loss and room requirements of your home, the installer will then be able to specify the components and parts needed to complete your UFH installation as well as accurately designing the pipework arrangement. Grant UK's in-house Design and Specification Team can assist with this step, supplying comprehensive quotations and full line drawings for confirmed Uflex orders.
Installation – once you have approved your installer's quotation, the installation phase can commence. Your installer will first prepare the floor, which may involve removing the previous floor covering and preparing the floor ready for the pipework of your chosen underfloor system to be laid. The pipework can then be laid in the pattern specified by the design drawings and connected to the system manifolds. Once the system has been pressure tested, the screed can be laid (if required) and a compatible floor covering later fitted.
Connect the UFH system to the heat source – if a screed has been laid, this will need to fully dry before the heat source can be connected to the underfloor heating system. Traditional screeded systems can take up to 30 days to dry whereas low profile systems which use a thin covering of a self-levelling compound can take just three days to dry. Dry, non-screeded systems can be connected to the heat source straightaway.
Install and set up the controls – to allow you to control each zone of your underfloor heating system, thermostats will need to be fitted and correctly set up by your engineer. By correctly setting your underfloor heating controls, the system can run efficiently and effectively.
To learn more about the installation process for Grant's underfloor heating systems, please follow the links below to watch step-by-step installation videos:
Grant Uflex UFH installation
Grant Uflex MINI installation
Grant Uflex Overlay Board installation
Are wet underfloor heating systems better than radiators?
Underfloor heating is a great alternative to traditional radiators and for certain installation scenarios, UFH may be more suitable than radiators. Every installation is different and it is important that the heat emitters specified, whether UFH, radiators or a combination of both, are correctly sized and designed to fulfil the heating requirements of a property. Certain types of radiators offer excellent thermal conductivity, such as Grant UK's aluminium radiator range, providing homeowners with choice when it comes to choosing the right heat emitter for their system. Please follow the link here to read more about comparing underfloor heating systems and radiators.
Grant supply wet underfloor heating systems and support with design
If you are ready to take the next steps to find the right underfloor heating system for your home, you can discover Grant UK's comprehensive underfloor heating range. The Uflex, Uflex MINI and Overlay Board underfloor heating systems are available alongside a sleek range of Uflex heating controls. Alongside the supply of the core UFH pipework, manifolds, and other system components, Grant UK's can also support installers and their customers with the specification and design of underfloor heating systems as well. You can also contact our team to discuss your upcoming project with our in-house Design Team.