The EP001 wiring centre is cleverly designed to bring together and simplify the wiring connections of a multi-zone control system for an air source heat pump and house them in one single enclosure. Here, we take a closer in this blog at how the Grant EP001 wiring centre works.
Using the EP001 wiring centre from Grant UK, installers can centralise the wiring for up to four heating zones and one domestic hot water zone making it ideal for both new and retrofit heat pump installations. I would like to share with you more information about how the Grant EP001 provides a convenient solution for multi-zone wiring with Aerona³ heat pumps and the benefits it delivers.
Multi-zone wiring simplified
The EP001 wiring centre greatly simplifies the wiring associated with multi-zone heating systems, something that will be music to the ears of heat pump installers and electricians. It basically consists of a printed circuit board housed in an electrical enclosure designed to be fixed straight to the wall inside a cupboard or heating plant room for example.
The EP001 has the capacity for up to four separate space heating zones, each one of which can be independently controlled, as well as one hot water zone. These five zones are each separately and clearly marked on the circuit board making the wiring for these zones tidy, clear and straightforward. For each of the space heating zones, there are three pairs of terminals for the timer, thermostat and power output to a zone valve or pump, each with clear markers making them easily identifiable for installers and electricians.
Indicator LEDs
Alongside each heating zone on the circuit board, there is a LED light which indicates whether or not that zone is active. If the zone is active, as a result of the timer and thermostat signaling demand for space heating, the red LED light will be on. These LED lights allow installers and service engineers to easily identify which zones are active at any time to see the operating status of the system, assisting with diagnostics if required.
DHW priority built-in
Two further features are also available with this wiring centre. The EP001 provides the volt-free switching required to operate the space heating and domestic hot water functions of the Grant Aerona³ heat pumps. Furthermore, the EP001 also has built-in domestic hot water priority capability operated via the priority switch on the circuit board. With this function switched on, when a demand for hot water is present, the hot water priority control will automatically interrupt the space heating so that the hot water requirements are fulfilled quickly and efficiently. This integral function of the EP001 will mean that installers do not need to fit a separate DHW priority relay, simplifying the installation and saving time.
The EP001 wiring centre is available to order alongside all of Grant's Aerona³ heat pumps – to discuss the range further, please do not hesitate to get in touch with a member of our Sales Team or read more about our heat pumps here.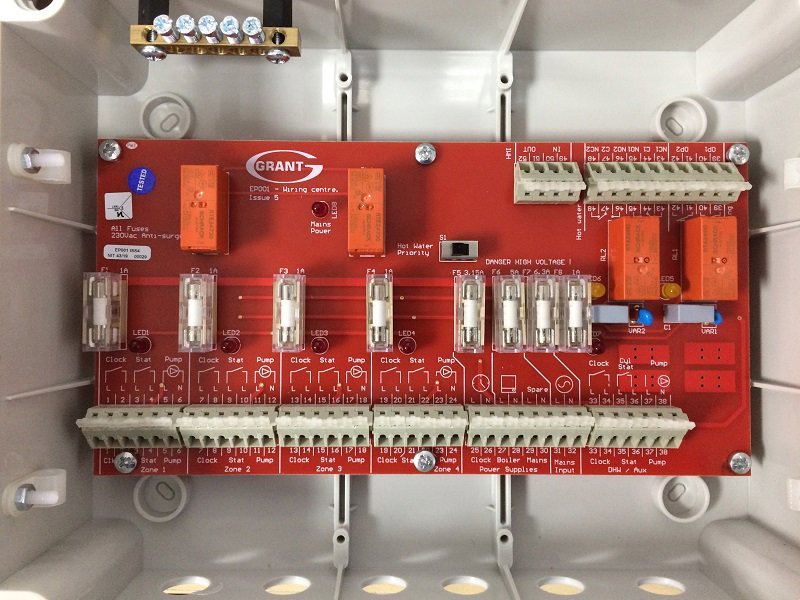 Helen Rishworth
Content & Communications Manager at Grant UK