A renewable heating system can help a household not only reduce their dependency on fossil fuels but it is a more sustainable solution for fulfilling their space heating and hot water demands. Planning the installation of a renewable heating system can appear daunting so in this blog, we will break down the key steps involved in making the move to low carbon heating.
Uptake of renewable heating systems has increased significantly in recent years with more and more homeowners researching whether a low carbon heating system is right for their home. If you are interested in learning more about renewable heating and how to start incorporating renewables into your central heating system, then this blog article is for you. Here, we will talk through the different types of renewable products available, the benefits they can deliver as well as explaining how to choose the right renewable heating system for your property.
What renewable heating options are available for your home?
The renewable heating market is a busy place with lots of different products available so it is important to research each of these systems. Air source heat pumps, such as the Aerona³ range, are an example of an electric heat source – connected to your electricity supply, an air source heat pump works by extracting heat energy from the air and converting this into useable energy to heat your home and hot water. Air source heat pumps are low temperature systems which means that they operate at lower flower temperatures when compared to a traditional gas or oil boiler so it is important that they are fitted as part of a comprehensively designed system, with heat loss minimised and correctly sized heat emitters specified. Provided the system design is accurately planned, air source heat pumps are suited to new builds and retrofit installations.
Air source heat pumps are increasing in popularity, with schemes such as the Boiler Upgrade Scheme financially supporting homeowners who make the move from a gas or oil boiler to a heat pump, but there are other low carbon heating technologies you can consider. Hybrid heating systems are great solutions for properties that are unable to fully transition to renewables – the VortexAir Hybrid, for example, combines an Aerona³ heat pump with a HVO compatible Vortex boiler to help homes begin their transition to renewables during distress purchase situations. Low carbon liquid fuels, such as HVO biofuels, are another solution which can help hard-to-heat homes reduce their carbon emissions by up to 88% - if you order a Vortex floor-standing boiler today, you will be choosing a HVO compatible boiler than can be converted from kerosene oil to HVO in a few simple steps.
Another renewable solution is solar thermal - these systems can harness the sun's free energy and transfer this into useable energy to heat your home's hot water. A solar thermal system is a complementary product that can be fitted alongside an existing heating system, such as traditional fossil fuel boiler, or it can be installed as part of a new, entirely renewable heating system featuring a heat pump.
Benefits of a renewable heating system
Making the move from fossil fuels to a renewable heating system will deliver many benefits. If you install a solar thermal system onto your home's roof, you can reduce the demand on your heat source and this can help reduce your monthly energy bills. The principal benefits of installing a renewable heating system are the green credentials because these systems do not use fossil fuels. As we all move towards Net Zero and working to collectively reduce our carbon footprints, finding ways to reduce greenhouse gas emissions is becoming a priority for many homeowners. By installing an air source heat pump, you can heat your home sustainably and while heat pumps use electricity, if you select an electricity tariff which purely uses renewably generated electricity, you can be assured that you are heating your home in a more environmentally way compared to a fossil fuel boiler.
Getting started with renewable heating at home
How to choose the right renewable heating system for your property
So where do you start when it comes to choosing the right system for your home? To help you with this journey, we have shared a checklist here which summaries some of the key steps you can follow: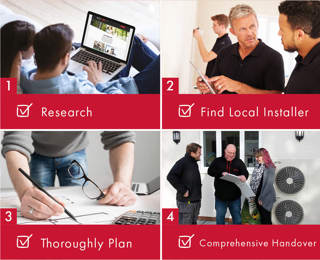 Research – the first place to start is to build your understanding of renewable heating technologies. You can visit our Knowledge Hub to learn more about how renewable heating systems work and their key differences.
Find local installers – we would recommend that you contact more than one installer to obtain quotations for a new heating system. When an installer visits your property, they will assess your property's existing heat loss, room sizes and build materials, they will calculate your demand for space heating and hot water, and they can discuss the most suitable solutions for your home. To find installers in your local area, please use our Find an Installer online search.
Thoroughly plan – your installer should discuss all the factors influencing the installation of a new heating system at your home but it is important to make sure that no corners are cut when designing your new renewable heating system. As well as selecting the right heat source, you also need to consider whether new or additional heat emitters are required and/or a new hot water cylinder.
Comprehensive handover – once your new renewable heating system has been installed, it is important that your installing engineer carries out a thorough customer handover with you so that you are confident with using the system. For Grant heat pumps, we have produced a series of dedicated handover resources including a Heat Pump Handover Guide and supporting video tutorials.
Considerations for your heating project
When making the decision to commence a renewable heating installation project, as well as being well-informed based on thorough research and planning, you may also want to consider the following:
Home insulation – how well insulated is your home? Improving the wall, roof, floor or window insulation levels in your home can help reduce the amount of heat that escapes your property. If you are looking to install a heat pump, home insulation will be important as we explain in one of our other blogs.
Available space – if you currently have a boiler, it is more than likely installed in your kitchen or utility room. Most renewable heating systems will require external and indoor space – for example, a heat pump needs to be positioned in a suitable location outdoors and, if you do not already have one, a separate hot water cylinder will need to be accommodated in either an airing cupboard or somewhere else inside.
Budget – costs are an important factor with any new heating system and with renewable products, it is no different. Alongside receiving a detailed quotation from your installing engineer, research any funding schemes which could financially support your new installation.
Choose a reputable installer – installing a renewable heating system is different to installing a replacement boiler so find a reputable installer who is experienced with working with low temperature systems. Alongside product training, you could ask for accreditations such as MCS registration.
Find your perfect renewable heating system with Grant
Here at Grant UK, we supply a wide range of efficient heating technologies including air source heat pumps, hybrids, hot water cylinders, HVO ready boilers, underfloor heating systems, radiators and solar thermal systems. We also provide comprehensive customer support to help installers and consumers with their upcoming renewable heating projects. To help you take the next steps towards your new renewable heating system, we have shared some useful links below:
We hope you have found this article of interest – if you wish to contact a member of the Grant Team, please visit our Support Hub.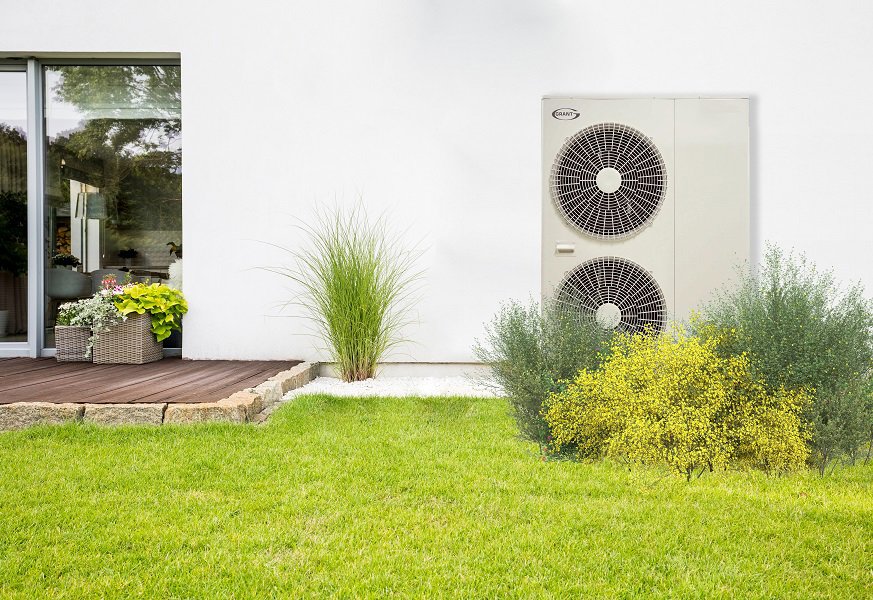 Helen Rishworth
Content & Communications Manager at Grant UK