A small development of new build properties has been completed near Helston in Cornwall, homes which will be exclusively available to local people with long-standing associations with the area. The homes have renewable heating systems installed with Aerona³ air source heat pumps and cylinders all supplied by Grant UK.
For over twelve months, a development of two three-bedroom houses and four two-bedroom flats has been built in Ruan Minor near Helston, Cornwall. The new build properties were granted permission based on the homes being made available to people who are local or who have strong connections to the parish area. The ethos of the build was to create homes for the local community, homes that would be both affordable and sustainable so to ensure that all the stipulations laid out in the planning permission were fulfilled, renewable heating systems were required.
The developer appointed Jonathan Bray of D & J Bray Plumbing and Heating Limited, local G1 Installers, to design and install the heating systems at all six properties. Working closely with Grant UK's in-house Design Team, Jonathan carried out the heat loss calculations, completed the system design and specified the package of products needed to meet the heating and hot water demand of the homes. For each property, an Aerona³ 6kW air source heat pump and a Grant High Performance 200ltr Pre-Plumbed cylinder with integrated buffer was specified and installed, to work alongside standard compact steel radiators.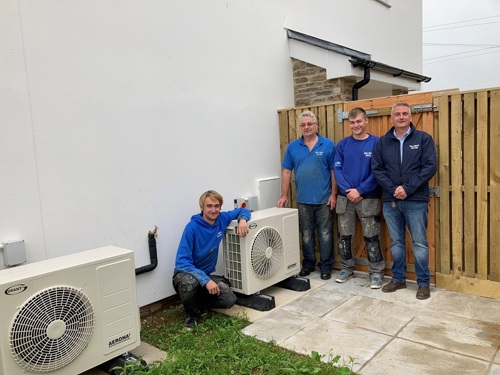 The Aerona³ 6kW heat pump is the smallest unit in the range, combining a small footprint with an A+++ ErP rating. Its reliable performance alongside its compact design made it the ideal solution for both the houses and flats on this development. "We always knew we were going to install Grant for this project," comments Jonathan Bray. "We have worked with Grant UK for many years, installing their oil boilers and now we are actively involved in the renewables sector too. This project was very different to our usual work and working with housing associations and tenants was a different experience compared to supplying a private buyer. However, Grant UK were on hand at all times, from design through to the commissioning, so the project ran smoothly from start to finish."
Not only did D & J Bray Plumbing and Heating Limited want to select a reliable product, they also needed the system to be user-friendly and easy to control for the end-users. "Grant heat pumps are suitable for installation with S-Plan heating control systems so they can be linked very easily to standard controls," continues Jonathan. "We paired these Aerona³ heat pumps with Honeywell controls which many end-users are familiar with. What's more, the Aerona³ heat pump controller allows the installer to set parameters to control the unit's operation and this functionality was really important with this project – the systems are straightforward and simple for the homeowners to control and we, as installers, have the peace of mind of knowing that the parameters are in place (that homeowners cannot adjust) which will ensure the correct operation of the heat pump."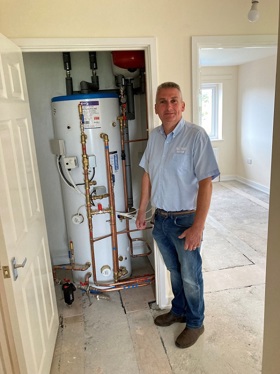 The new owners of these six Cornish homes are starting to move in so they will soon not only enjoy the comforts of their local life and community but they also have the assurance that their properties are being kept warm by a sustainable heating system from Grant UK.
To read more about Grant's renewable heating product ranges, please visit www.grantuk.com/support/packagesolutions.