A family home in Wiltshire has made the move from a gas central heating system to a renewable solution featuring an Aerona³ air source heat pump, a solar thermal system and QR hot water cylinder all supplied by Grant UK, helping the household to reduce their dependency on fossil fuel and lower their energy bills.
Earlier this year, a Grant renewable heating system was installed at a detached, four bedroom house in Corsham, Wiltshire. The new heating system, which has replaced the gas boiler previously heating the home, comprises of a Grant heat pump, two panel solar thermal system and a QR hot water cylinder. Additionally, the family have also installed a solar PV system to provide their electricity. Using a local G1 Installer, this home is now having its heating, hot water and electricity requirements met by renewable energy, helping the family to be more sustainable and reduce their energy bills.
The family are also long-standing supporters of Bath Rugby Club who Grant UK are Official Partners of. The Club kindly donated a signed shirt which was presented to the family shortly after their Grant renewable heating system installation was completed.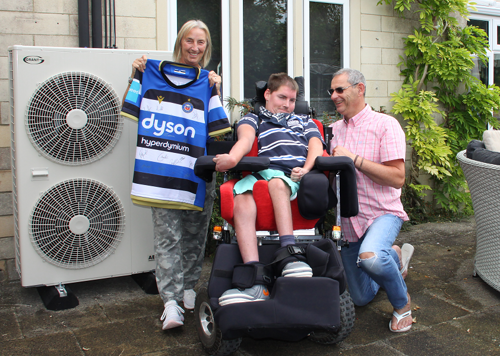 To read this case study in full, please visit our Knowledge Hub here.