G1 Installers, Marshall Heating Ltd, completed the installation of a Grant Vortex Eco Utility oil boiler in the village of Benenden, Kent, in October this year and we caught up with them to discover more about why this boiler, and Grant's other Vortex and VortexBlue models, are the preferred brand of oil-fired boilers for this installer.
Marshall Heating Ltd was established in 2004 have been G1 Installers for a number of years. Based in Cranbrook and serving customers throughout Kent and Sussex, Marshall Heating Ltd carry out domestic heating work, including installations, servicing and maintenance, being both OFTEC and Gas Safe registered. The company now employs three full-time heating engineers who work alongside trusted sub-contractors and they recently completed an oil boiler installation in the picturesque rural village of Benenden, Kent. Milky Marshall, Managing Director of Marshall Heating Ltd, worked closely with the homeowner to understand their requirements and to recommend the most suitable system to meet their heating needs.
"This job involved the removal of the old system boiler which had developed a water leak and was beyond repair," explains Milky. "The boiler had been heating a small annex with four radiators and an unvented hot water cylinder so, when it was clear that the previous boiler needed replacing, I met with the customer and discussed the various options available to them. These included a replacement wall mounted boiler, external boiler, or internal floor mounted boiler, and whether to stick with the existing system boiler set up or to go with individually sited sealed system components.
"The customer did not want the boiler sited outdoors so, following our discussions and my survey, the decision was made to supply and install a new Grant Vortex Eco Utility 15-21kW boiler with a low level EZ90 flue kit. A new expansion vessel and sealed system kit with a 2.5bar pressure relief valve were also fitted adjacent to the boiler with the expansion vessel being purposely oversized to allow the customer to change the radiators for larger volume, more stylish models at a later date."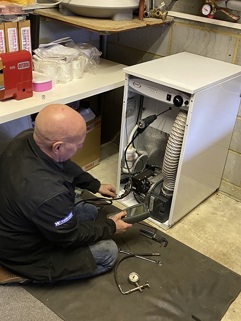 This job is one of many oil boiler installations that Marshall Heating Ltd have completed so far in 2020. The Company is very specific about the products they use and install and when it comes to oil, there is one brand of oil boiler at the top of their list. "In the oil sector," continues Milky, "when I am recommending products to potential customers, I always choose a Vortex or VortexBlue boiler. The first Grant boiler I fitted was when I helped another installer on a boiler exchange job approximately twenty-five years ago. Since then, I have lost count of how many Grant oil boilers I have fitted!
"I actively watch the marketplace and evaluate new products and technologies but, all these years down the line, I still like what Grant do and will not be changing anytime soon! I select Grant boilers because I am impressed with the wide range available, the quality of build, and the back-up service. I have always been treated very well as a customer by the Company, working closely with their Sales Representatives over the years who have been helpful, none more so than our current Area Sales Manager, Kevin Fossey."
Milky, who has been in the heating industry for over four decades, strives to give back to the heating sector that has given so much to him providing training and support to his team at Marshall Heating Ltd. As a previous Gas and Oil Safety Inspector, Milky is fully aware of the importance of treating the system as part of a new boiler installation.
"Once this installation in Benenden was completed," continues Milky, "the system was fully flushed, the system water was tested and a corrosion inhibitor was added to the system which, alongside the magnetic filter that was installed, will serve to protect the entire central heating system from debris and magnetite. After commissioning the system and completing the relevant paperwork, we also carried out the relevant notifications including registering the boiler for its five year guarantee that we, as G1 Installers, can activate on the product. The customer is very happy with their new installation and they look forward to seeing us in a year's time to carry out the first annual service."
Please click here for more details about Grant oil boilers.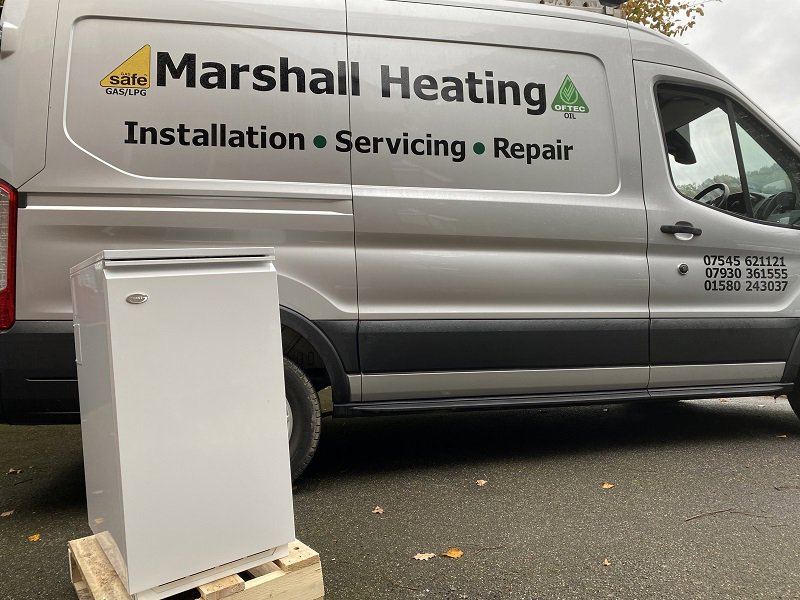 Credit: Marshall Heating Ltd