Grant Aerona³ air source heat pumps are straightforward to control using the controller that is supplied with each unit and, when used with suitable third-party controls, homeowners can also manage their system via an app. While controlling a Grant heat pump is simple, it is important the required control values are correctly set as Matthew Beales, Regional Sales Manager at Grant UK, explains in this blog.
When your air source heat pump has been installed, your installer should provide a thorough introduction to how to use your new renewable heating system during the commissioning and handover phase of the project. During the handover, the installer will show you which parts of the system you can adjust yourself and which settings should be left alone. This understanding of the new system alongside the correct set up of the heat pump itself and its operational parameters will help ensure that your Aerona³ is able to perform at its best.
Heat Pump Controller
All of Grant's Aerona³ models are supplied as standard with a heat pump controller through which all the heat pump's functions can be adjusted. This is a remote controller that is installed indoors, away from the heat pump, to allow end-users easy access from either their kitchen or utility room for example. This controller has a minimalistic, modern look with a white casing enclosing a LCD display and the control buttons.
The Aerona³ heat pump controller has three levels of access – user level, installer level and service level – and homeowners only need to access the user level as this shows the heat pump's operating information and monitoring display function. Householders should never need to adjust the parameter values set on this controller – the installing engineer will set these during the commissioning phase and homeowners should never be tempted to change these settings if they are wanting to increase the temperatures of their radiators. The controller, therefore, is there for householders to monitor their heat pump's operation.
App-enabled Controls
The Aerona³ air source heat pumps are suitable for use with S-Plan heating control systems which means they are compatible with the majority of third-party controls. This means that the heat pump can be managed remotely when such controls come with WiFi connectivity and a supporting app allowing you to adjust your room temperatures via a mobile device. It is really important to stress that these control systems, and not the Aerona³ heat pump controller, are what should be used by homeowners to set room temperatures and adjust radiator temperatures. The compatibility of the Aerona³ heat pump with app-enabled third-party controls can give homeowners even greater control of their home heating so that they can achieve complete comfort in every room.
Understanding 'Setback'
An important part of controlling a heat pump system is understanding the term 'setback'. Heat pumps should not be completely turned off. This is because it can be costly to try and reach the desired temperature after it has dropped considerably as a result of the heat pump unit being switch off. 'Setback' control operation should be used instead which allow the heat pump to keeping running. This involves the system being in 'energised' mode during the hours when you are at home, running at the required higher flow temperature, and then it operates in 'setback' mode, setting to a lower flow temperature during the night and when you are away from the home. Using this cycle of 'energised' and 'setback' temperatures, the heat pump can operate very efficiently and can effectively keep the home warm.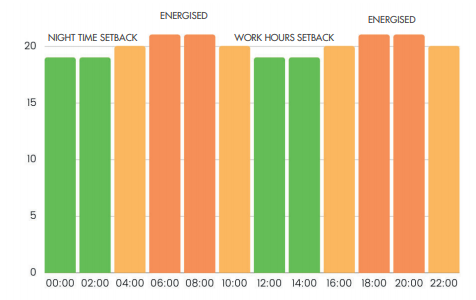 You can discover more about heat pump system controls via the Grant UK YouTube Channel and to learn more about sustainable home heating, head over to our Knowledge Hub.
Matthew Beales
Regional Sales Manager (East) at Grant UK