An Aerona³ air source heat pump has been installed alongside a Grant High Performance hot water cylinder to upgrade the heating system of a property in Lanark, Scotland. Converting this home's heating system from a traditional fossil fuel to renewable energy, the Grant heat pump and cylinder installed are designed to partner together effectively to deliver maximum system efficiency.
In the Autumn of 2019, the owners of a two-bedroom, single story detached cottage in Braehead, Lanark, made the decision to upgrade their central heating system. An external oil boiler previously heated the property which was sited alongside the property where a future extension is proposed to be built. The need to re-site the boiler prompted the homeowners to reassess their home heating and, after thorough discussions with their installers MCA Renewables, they decided to switch to renewable heating.
A Grant Aerona³ R32 10kW air source heat pump was selected. Compact in size and highly efficient, the Aerona³ R32 models are high performing heat pump units which provide homes with reliable heating and hot water. With excellent SCOPs even when the external temperature is very low, the Aerona³ R32 heat pumps are not only Grant's greenest, most efficient air source heat pumps, they can also deliver householders a return on their investment by reducing heating costs and earning financial rewards through Government incentives.
"These homeowners wanted to move away from oil," comments Terry Doherty of MCA Renewables, the G1 Installers who completed this installation. "Upgrading a traditional heating system to a more sustainable, efficient option can be expensive but with Government initiatives available, homeowners can access financial support to help them incorporate greener, renewable technologies into their properties. For this installation in Braehead, the homeowners received an interest free loan of £10,000 through the Home Energy Scotland Loan scheme, which helped with the installation costs, and they have also applied for the Domestic RHI Scheme so will receive quarterly payments for their renewable heating for seven years."
Available through the Energy Savings Trust, the Home Energy Scotland Loan initiative is designed to provide homeowners in Scotland with an interest free loan (funded by the Scottish Government) to encourage them to make energy saving improvements within the home, such as installing a renewable heating system. This loan can help with the initial costs of an installation, making the selection of a renewable heat source a more viable solution for homeowners.
Meanwhile, the Domestic Renewable Heat Incentive (which is a Government Scheme available to eligible households throughout England, Scotland and Wales) is an initiative which provides householders with regular payments based upon the amount of renewable heat their system is estimated to produce. Applicants must meet the scheme criteria (which includes having a MCS approved product installed by a MCS accredited installer) and then adhere to the scheme rules in order to receive quarterly payments over the course of seven years. These payments, based on the RHI tariffs, provide homeowners with a financial return for their decision to go green with their home heating.
All of Grant's Aerona³ heat pumps are MCS approved and MCA Renewables are MCS accredited installers, thus making this installation eligible for the Domestic RHI. While the homeowners can enjoy all the benefits that their new Grant heating system is delivering, the installer also found working with the Aerona³ heat pump an enjoyable installation.
"The Grant Aerona³ range is my heat pump of choice," continues Terry. "We have installed a number of these heat pumps and find them very straightforward to work with, being installer friendly and easy to set up. We also installed a Grant MonoWave high performance 200ltr cylinder which is ideally suited to complement the heat pump. We have happy customers too which is always what we aim to achieve as installers!"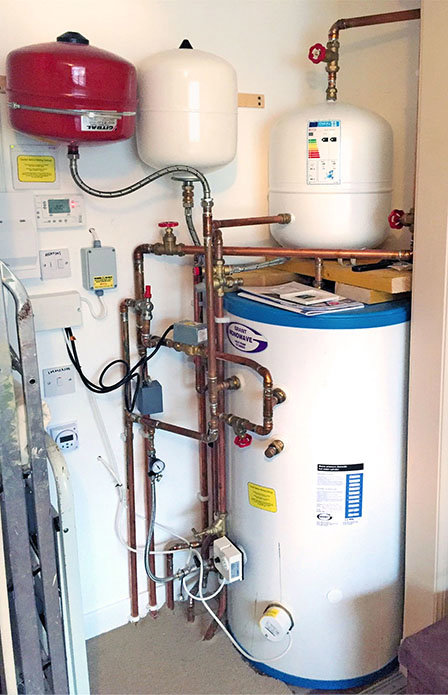 Credit: A Grant MonoWave high performance 200ltr cylinder was also installed