A large farmhouse has been converted into a seven bedroom property with the renovation involving the installation of two Vortex Pro Utility system oil fired boilers along with one of Grant's Header Control Systems. The spacious home is now not only enjoying efficient heating but the householder is also able to precisely control their property's heating requirements.
Based in the Buckinghamshire countryside, a 6,500 square foot farmhouse has undergone a series of renovation projects. Since the current owners bought the property in 2011, several developments have been completed with the latest renovation including a loft conversion, the build of an additional barn and adding over 4,000 square foot to the property's living quarters. Today, the house now comprises of seven bedrooms, eight bathrooms, a gym, a media room and five receptions.
The most recent stage of the renovation included upgrading the heating system. The previous oil boiler needed replacing and the householder also wanted to improve the controls system for their heating as well. Therefore, to meet the large property's heating and hot water requirements, two Grant Vortex Pro Utility System 26/36kW oil boilers were installed alongside a comprehensive Header Control System which was also supplied by Grant.
"The most important aspect for the build from our perspective was to insulate the house as much as possible to reduce the need to increase the size of the boilers and also to ensure we had the best possible controls," explains the householder. "We discussed our needs with Heppelthwaite Plumbing and Heating and they agreed that the proposed product specification was suitable for the house. They also agreed that the Grant Header System would provide us with what we were looking for."
Grant's Vortex Pro Utility range, which was awarded a Which? Best Buy in 2018, incorporates Grant's patented stainless-steel heat exchanger making it highly efficient, along with the latest Riello RDB Low NOx compact burner which is ErP compliant with the recent emissions legislation. In addition, sealed system models are available in the range and the two Vortex boilers installed at this farmhouse were both system versions. The system models include, as standard, a factory fitted expansion vessel, filling loop, pressure gauge, automatic air vent, pressure relief valve and high efficiency circulating pump. These components enable the boilers to be installed without the requirement for a feed and expansion tank in the loft.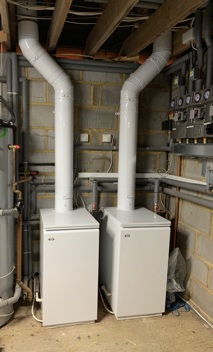 Alongside the boilers, two Mag One magnetic filters were also installed. The 12,000 gauss magnet within each Mag One works as a triple-action filtration, filtering magnetite and nonferrous debris from the central heating system, providing long lasting protection for the system. A Grant White System Flue assembly was also fitted for each boiler, which included vertical balanced flue kits, pitched roof flashings and accompanying wall brackets. With hundreds of components within the EZ-Fit Flue range, Grant can supply multiple flue combinations to suit all of their oil boilers, thus delivering ease and flexibility for installing engineers.
Overseeing the two boilers installed and the different heating requirements throughout such a large property, requires a clever energy management system. Working closely with their installer and Grant UK's Pre-Sales Technical Team, the householder was able to choose a comprehensive Low Loss Header System which included a GES264 sequence controller to manage the two heat sources (the oil boilers in this case) and several 8m Zone Pump Kits which enable multiple heating appliances to be combined and efficiently work together. Also included was a low loss header which allows for the feeding of more than one heating zone, and four GEO360 weather compensators which use sensors to trigger adjustments to the system's water temperature which are more responsive to the home's specific needs.
"The key for us with this heating upgrade was full system and control integration and we have achieved this thanks to Grant's Header Control System. Only Grant offered us the full package with nothing else on the market coming close," continues the property's owner. "We have been using the system for eight weeks now, which included the cold spell of weather experienced a few weeks ago, and we are really happy with the system. Oil use is below expectations and our home's heating is working perfectly – we could not be happier."
In addition to providing a complete product package, Grant UK's customer support has also been welcomed by the householder. "Grant UK's Pre-Sales Technical Team were brilliant in terms of help and advice, as was Gareth Farr, Grant UK's Area Sales Manager for Buckinghamshire, who provided assistance during the early stages when we were deciding on the boiler and specifications. Grant UK made things very easy – great customer service at every stage. Our installers, Heppelthwaite Plumbing and Heating, were also amazing from start to finish – they could not have been better and we would highly recommend them," the householder concludes.
This installation of multiple Grant products demonstrates how well their heating products can work together. The large property is now benefitting from a new heating system which is working as efficiently as possible due to the design and build of both the boilers and control system. With a comprehensive product range and on-hand technical and sales support, Grant UK has a solution for many a heating question!