We are incredibly proud of our team here at Grant UK, many of whom have worked for the Company for a number of years. Here are some of our longest standing team members who have worked for Grant UK for a combined period of over sixty years.
Mike Brownless, Quality Manager.
Joined Grant UK in 2000
Mike has been part of the Grant family for over twenty years, first joining the Company as a Warehouse Operative when Grant UK's HQ was based in Salisbury. When Grant UK moved to its premises in Devizes, Mike moved with the business and has held a number of positions within the organisation from managing the Warehouse, setting up Spares Sales and working as a Technical Advisor. In 2008, Mike set up Grant UK's Returns Department and has developed this into the Quality Control Department that it is today.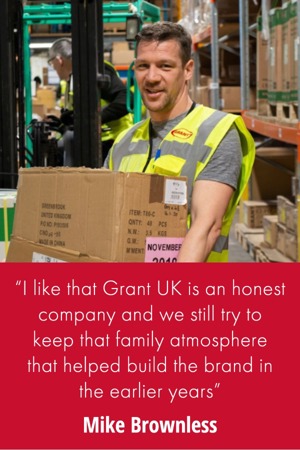 Becky Gray, Internal Sales Manager.
Joined Grant in 2010
Becky joined Grant UK in early 2010 and she has been a part of the Sales Team throughout her career at the Company. Starting as a Sales Administrator, Becky progressed to the role of Assistant Internal Sales Manager before becoming Internal Sales Manager. After her pause for parental leave, Becky was a Sales and Contract Support Executive before returning to the role of Internal Sales Manager in 2021. Today, Becky manages the Internal Sales Department who are responsible for the processing of all orders.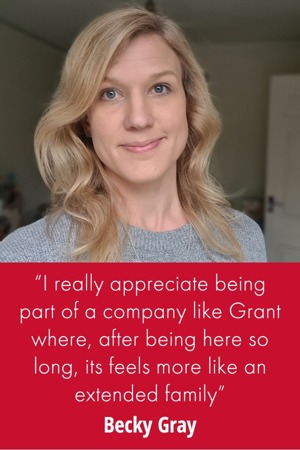 Mike Toms, Spares Business Development Manager.
Joined Grant UK in 2002
Mike Toms is another member of the Grant Team who has been working for the Company for over two decades. When Mike first joined Grant UK, he was the Area Sales Manager for the South West. He later extended his sales support into the Channel Islands and over the years, Mike has had various roles within the external Sales Team. In 2018, Mike was appointed Business Development Manager for Spares, overseeing the Spares Sales for the business, while also continuing to provide sales support in Guernsey and Jersey.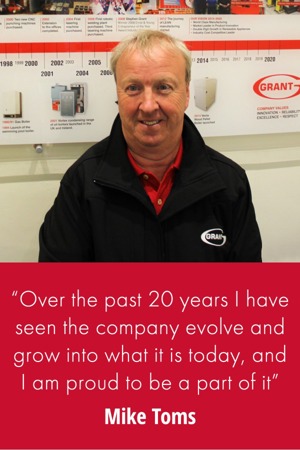 Shelley Buckley, Customer Service Manager.
Joined Grant UK in 2013
Throughout her career at Grant UK, Shelley has always been a key contact for installers, merchants and end-users throughout the customer journey, whether that be with pre-sale support or after-sale care. Shelley started at Grant UK as a Receptionist, later joining the Internal Sales Team where she held the positions of Sales Administrator and Assistant Internal Sales Manager. In 2021, Shelley was appointed Grant UK's Customer Service Manager and today she manages the team members providing after-sales customer support.